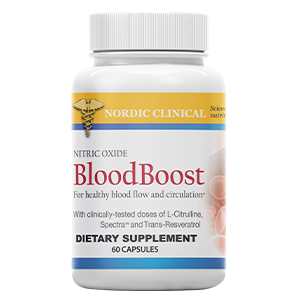 Buy
NO Blood Boost
60 Capsules, 30-Day Supply | Nitric Oxide Supplement*
Support healthy blood flow and nitric oxide production*
Stimulates nitric oxide production.*
Relaxes blood vessels and supports healthy blood flow*
*These statements have not been evaluated by the Food and Drug Administration. This product is not intended to diagnose,treat, cure or prevent any disease.
Support healthy circulation with a single dose.*
Better blood flow means better overall health. When your blood flows freely, it can do its job of nourishing all the organs and cells in your body. But when circulation is weak, organs decline in function and your heart must pump harder—increasing risk of poor health.
No molecule does more for circulation than nitric oxide. In fact, nitric oxide is the primary mechanism that expands artery walls so they open up. This keeps your blood moving unfettered.
Unfortunately, many adults over 40 don't produce enough nitric oxide to achieve optimal circulation and health.
4 clinically-studied powerhouses help maintain healthy blood flow*
N-O BloodBoost combines the best of clinically-studied ingredients to enhance blood flow, delivering oxygen and critical nutrients to essential tissues and organs in the body. N-O BloodBoost's comprehensive approach gives you faster and longer lasting effects with just two capsules a day.
1. Pharmaceutical Grade L-Citrulline is at the heart of N-O BloodBoost. The primary raw material the body uses to produce N-O is an amino acid called arginine. The most recently published research suggests L-arginine is best produced in the body from L-Citrulline.
In fact, in a double-blind, randomized, placebo controlled cross-over study, 20 healthy adults showed that L-Citrulline was 2-3X more potent at raising plasma L-Arginine levels than L-Arginine itself. L-citrulline converts to L-Arginine in the kidney, which helps maintain healthy levels of nitric oxide. N-O BloodBoost features the full research dose of Kyowa Quality™ L-citrulline, produced through a proprietary fermentation process that ensures consistent purity and potency.

2. Setria® Glutathione, a protein that cells use for detoxification, can boost the effects of L-citrulline. Preliminary studies found that the combination of ultra-pure Setria® Glutatione and L-Citrulline increases N-O levels to a significantly greater degree than the placebo. How does Setria® Glutatione make L-Citrulline more effective? By speeding up the release of NO from arginine. That results in more nitrite (also a precursor to N-O) being activated.

Trans-resveratrol, a more bio-active form, has been shown in research to produce vasodilation by increasing nitric oxide production. In a human clinical trial using Flow Mediated Dilation (FMD) test–a test to measure how blood vessels dilate–patients arteries widened 62% with a single 30mg dose.
4.) Spectra™ is a clinically-tested antioxidant that supports protecting N-O from the damaging effects of free radicals. By guarding against free radical attack, Spectra™ protects delicate N-O molecules from being broken down. A blend of over thirty fruits, vegetables and herbal extracts, Spectra™ provides the most comprehensive protection from oxidative stress that degrades nitric oxide in the body. In a double-blind, placebo-controlled human study, an extraordinary 99% boost in nitric oxide levels was achieved in subjects with a positive response. N-O BloodBoost gives you the full research dose of 100mg.